If you are someone that likes to do your own thing, there are plenty of publications in our shop that will help you devise a walk. However, especially if it's your first visit to the area, sometimes it's easier to team up with a group where there is someone who knows the area and the landscape and heritage.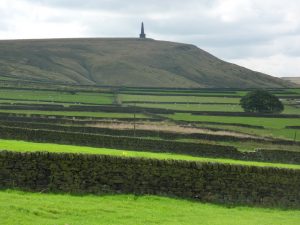 The main providers of guided walks in our area

Calderdale Ramblers , the local branch of the national Ramblers' Association.  There's a guided walk most weeks at three levels of difficulty and non-members are welcome to sample a walk or two before joining. The Ramblers West Riding website has up-to date details of walks slightly farther afield. All the people accompanying Ramblers walks are very experienced leaders.
Calderdale Heritage Walks are mostly easy walks with an expert guide, looking at a particular aspect of history and heritage, they run from April to October. There is a small charge for joining the walks.
The South Pennines Walk & Ride Festival has been happening every September and has had a big programme of walks at various levels. For more information visit the South Pennines Park website.
The National Trust has a programme of guided walks around Hardcastle Crags.
Tailor-made guided walks
If you are a group, a family or friends coming to the area and would like someone to show you around, there are two providers of Tailor made walks.
Hebden Hikes have been providing guided day walks with an experienced guide and will plan a route to suit your individual needs.
Calderdale Heritage Walks will tailor a walk to your heritage interest.
Guided Walks Calendars
There isn't a dedicated calendar of local guided walks in the area, but if you want to see some guided walks are coming up, look at two local calendars that will have most of the guided walks on them.
'Wildside' is a programme of countryside events in the area, including some guided walks. It is published every March and October by Calderdale Council and available from Visitor Centres.
The events calendar  published by Calderdale Council has several walks in it
Green Calderdale website sometimes has a calendar of events including some walks