We are still working on this page, with the aim of making walking for all. It will include guidance on grades of walks, health walks, bus walks and much more.
Gentle walks
Pop out walks
Town and village trails
Children's walks
Guided/led/health walks
WALKING CAN BE SUCH A PLEASURE
Walk on your own, walk with a companion or walk with a group of friends. The feeling of physical activity can be exhilarating (perhaps not when its pouring with rain though!). There is time to stop and think or time to talk with friends or time just to look at the views.
WALKING CAN BE EASY
The Heart of the Pennine is a fantastic centre for all kinds of walking, but many people think that because our towns are set in the deep Calder valley and villages are high up, you have to be very fit to walk round here. NOT TRUE, there are plenty of strolls that anyone can do (many walks can be done with young children, even with a buggy).
All the routes that will be on this page are generally level, without any significant climbing. Don't think that easy walks are just about walking in the valley bottom. With the aid of local buses, you can enjoy easy walks on the tops to take in the wonderful views (or the atmospheric low cloud if you are unlucky!)
And take your time, look at the views, watch out for wildlife – walking is not a race!
AND IT KEEPS YOU HEALTHY.
Walking is an excellent natural way to help you stay healthy and gain pleasure from your surroundings. Doctors agree that walking helps protect your body from illnesses and health problems, including heart disease, stroke, high blood pressure, obesity, osteoarthritis and the most common type of diabetes. It is also a great way to fight depression and relieve stress.
AND YOU DON'T NEED LOADS OF EXPENSIVE KIT
The good news is that almost everyone can do it, at any time, for free! Walking needs no special equipment or clothes apart from a decent pair of shoes and a wind/water proof top. Just a note, if you are walking on the tops, always take your waterproof, even if the sun is shining! Weather can change and it can be calm in the valley, but windy on the tops.
Walking gear can be expensive, but you can get relatively cheap waterproof tops from our local outdoor shops. You are also likely to find walking gear in charity shops – there's plenty of those in Todmorden and Hebden Bridge. Many people swear by using walking poles which helps them with balance and stiff joints. These are now available at a comparative low cost compared with a few years ago.
AND YOU DON'T NEED TO BE AN EXPERT MAP READER
We always recommend that people get the Ordnance Survey map, but most of the local walking publications have detailed descriptions and sketch maps. In most cases, these will be adequate.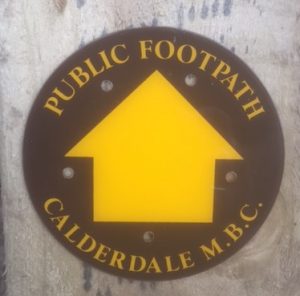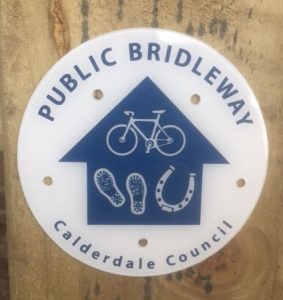 Many public paths are way-marked with either small plastic discs indicating the direction or wooden finger posts. The absence of a way-mark doesn't mean you can't use it, there are so many paths in our area that it's difficult to way-mark them all!
What's the difference? Blue bridleway signs mean there is a 'right of Way' for walkers, horses and bikes, they tend to be tracks or wide paths. Brown and yellow way-marks mean the path is only for walkers (in theory!), so they are often narrower or sometimes less distinct.

Gentle walks
Gentle walks will tend to be 1- 5 miles, mainly on the flat, but with some gentle climbs and descents. They are ideal for people who are recovering from an illness or who wants to build up a basic level of fitness.
Check out a range of these walks on the Easy walks page on the Hebden Bridge Walkers Action website.
Pop out walks
Developed by Todwalkers, Pop out walks take under an hour and are ideal for popping out for a summer evening walk or taking a break from work or being indoors. Although they are short, they can be strenuous in places. Each walk is described so you know what kind of walk you are setting out on. At the moment Pop out walks are available from Todmorden Information Centre with one example being put up on the Todwalkers website which you can download.
We hope to be developing more Pop out Walks soon.
Town and village trails
There are three of these including Todmorden (booklet and e-Trail), Hebden Bridge and  Heptonstall (booklet and e-Trail). All available in the shop.
Children's walks
Many of the shorter walks will be of interest to children, but Mytholmroyd Walkers Action have produces a series of walks called Making Tracks. The attractive booklet is availble from the shop.
Guided easy/health walks

Some of these will be specific walking for health events. Details of providers of easy walks to come.
More information about Easy walking coming soon.