Long distance routes   | Easy Walking |   Walking Guides  | Geocaching |   Path condition
We are blessed with one of the most comprehensive and ancient footpath networks in the country. It is reckoned that in our area we have nearly 600 miles of footpaths and bridleways. The area is most famous for its stone causey paths – installed to handle trains of packhorses in the 18th and 19th centuries, to know more take a look at A short history of our footpath network.
Over the last few years a lot of effort has gone in to make sure the routes are waymarked, so you shouldn't lose your way. All the published routes have been surveyed and repaired to make sure you have a good walking experience. If you come across a problem, please tell us.
Long distance routes

We have two National Trails that go through the area and several locally developed long distance routes.
The Pennine Way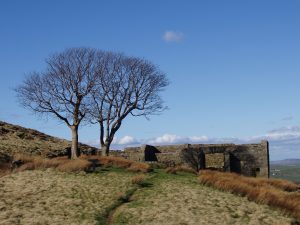 The Pennine Way tracks over 20 miles through our area from Blackstone Edge to Top Withens. It is very well way-marked and there are some great views from the route (especially from the iconic Stoodley Pike). If you want to detour into Hebden Bridge on your way, you can use the Hebden Bridge Loop path developed in 2015. Hebden Bridge is also the start of the Heart of the Pennine Way, published in 2015 which is available through the shop on this site.
The Pennine Bridleway (Mary Townley Loop)
The Mary Townley Loop enters our area at Summit and keeps to the high ground above Walsden, Todmorden, Eastwood and Colden exiting at Heptonstall Moor to later skirt Burnley, Rawtenstall, Rochdale and Littlebrough.
The route is mainly on tracks or good paths and is very well waymarked. You can pick up a guide and a map at local Visitor Centres.
The Calderdale Way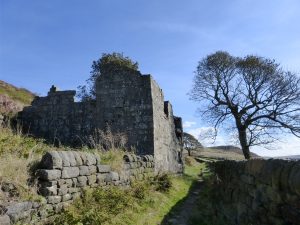 Established nearly 40 years ago, this is a fifty mile walk (25 miles though our area) circling Calderdale going through a great variety of landscapes.
The route has several link paths that allow you to divide it up into small circular walks. It is well way-marked and the paths should be in good condition. The Calderdale Way Association produce a guidebook, price £4.95 and Paul Hannon has written a guide, both are available through the shop on this site. Up to date detailed directions for the Calderdale Way will be published on the site during 2017.
Todmorden Centenary Way
The Todmorden Centenary Way is a twenty-mile circular route. It goes through upland pastures, woodlands, open moor and steep sided valleys around Todmorden. It is both a fascinating walk for regular walkers as well as an invitation to those with less experience.
It can be used to make a series of day and half day walks of various lengths or a whole weekend's walking. It can be joined at any point and sections walked in any order. Walks can be devised to suit all abilities and link paths enable circular walks to be planned with the option of using public transport. There is a Todmorden Centenary Way map and guidebook, available through the shop on this site at a discount price.
Rochdale Canal towpath
The 32-mile-long Rochdale canal runs from the centre of Manchester (Castlefield), through Rochdale and Littlebrough and enters our area at Summit. From there it winds down the Calder Valley, through Walsden, Todmorden, Eastwood, Hebden Bridge, Mytholmroyd and Luddendenfoot (ending at Sowerby Bridge a few miles on).
The canal was conceived in 1776 but not completed until about 1805. Cotton, wool, coal, limestone, timber, salt and general merchandise were transported, but the opening of the Manchester and Leeds Railway in 1841 caused a significant drop in trade. The canal closed in the 1960s, but was refurbished in the 1970s and re-opened in 1983. It is now used as a leisure route.
It is a fascinating flat walk that can easily be done in sections having easy access to trains and buses to get you back to the start. Some sections are suitable for wheel chair users. One of our possible projects is to develop a guide to walking along the canal.
The Stanza Stone route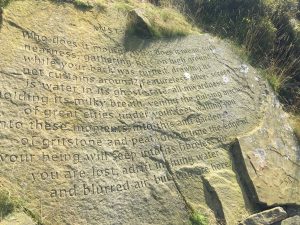 The Stanza Stone route was developed as part of Ilkley Literature Festival. Along the route there are poems by Simon Armitage about weather which are carved into the landscape.
They are such a surprise when you come across them. We have one stanza stone in our area on the Pennine Way at Lighthazzles quarry near Blackstone Edge and one just to the North on Oxenhope Moor.
The Paulinus Way
This is a pilgrimage route from Todmorden to York. There are three routes on offer:
Todmorden to York West to East route
Todmorden to York East to West route
Todmorden to York Full circuit
It needs some work to develop it as a long distance route, which Todwalkers are looking at. More information
Other Long Distance Walks
There are a series of boundary walks such as the ones around Todmorden and Wadsworth. These routes are not published but there are annual challenge events along them to raise money for charity.
Calderdale Long Distance Walkers run an annual challenge event every January called The Hebden.
Easy Walking
Don't think that you have to be super fit to walk in the Heart of the Pennines. We have loads of walks that are short strolls, mainly on the flat, easy to access, but which still take you through fabulous countryside. If you are not experienced in walking in the countryside, we have lots of leaflets with clear directions and easy to read maps.
For more information, visit the Easy Walking page
Walking guides

You are spoiled for choice with over 50 walking publications for our area. There are easy walks, moderate walks and tough walks – you choose what you want. Many are locally produced, drawing on years of local walking knowledge. There are a number of distinct walking guides:
Walks based on using the local bus services which allows for linear walks.
E-Trails that focus on the local heritage. You buy a route guide and can download an audio visual guide to look at on your smart phone.
Town and Village walks to show the history and the nooks and crannies.
Walks for children 'making Tracks' produced by Mytholmroyd Walkers Action
There are also a number of commercially produced books containing a collection of walks.
You can buy guides from our local visitor centres and other outlets or buy them on line from our shop on this site.
Interpretation Trails
There are a number of walks where there are interpretation boards that explain the nature, landscape and heritage:
Cragg Brook
Ramsden Wood Farm Educational Trail above Walsden
Luddenden Valley
Hardcastle Crags
Gorpley Clough Local Nature Reserve
Geological Trail that starts from the Observatory on Bacup Road
Geocaching
There are hundreds of Geocaching sites both in the valley bottom and on the tops. There is a thriving geocaching community in the area.
For those that don't know about Geocaching, it is an outdoor recreational activity, in which participants use a Global Positioning System receiver or mobile device and other navigational techniques to hide and seek containers, called "geocaches" or "caches", at specific locations marked by coordinates. It is a great way of getting children walking in the countryside.
There is a good explanation about geo caching on Montem mountain gear website
Path condition

We have a dedicated team of volunteers (called CROWS) who survey, repair and maintain the footpath and bridleway network.
If you hit a problem (e.g. paths overgrown, poor drainage, a wonky stile), we would love to hear about it. CROWS want to know about any problems.
If you want to know more about what CROWS do, look at their blog or website.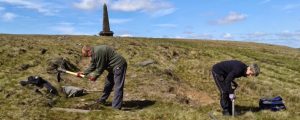 If you come across a deliberate blockage or obstruction, please tell us and we will pass it on to the Local Authority Highways department.
A short history of our footpath network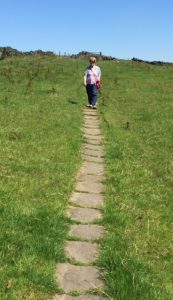 To understand our network of paths you have to forget about modern forms of transport. In the 17th century the current valley bottom route of the railways, canals and roads were marshes and most rivers could only be crossed in the summer. The only through roads were the so-called Kings Highways, but these were in such a primitive state that many of them could also only be used in the Summer!
However, there was a network of well-defined routes used for Packhorse trains. These were used to transport wool and cloth from the upland farms that produced the wool and wove the finished cloth. If you see a causey stone path running over the tops or between farms the route was likely used for this purpose.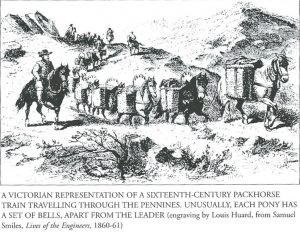 Packhorse trains could travel 30 miles in a day, they carried over 100 kg (16 stone) and they could be 30-40 horses in a train. If you heard their bells, you would be wise to get out of the way!
To explore these routes, there is a great  e-Trail Packhorse paths in Blackshawhead. If you want more detail on the history of packhorse paths you can purchase a copy of the book 'As Seen on Packhorse Tracks' by Titus Thornber, it costs £15 but full of fascinating information and wonderful photographs.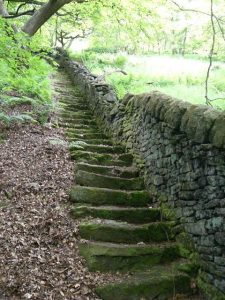 Around the 1850s weaving and spinning moved into mills first powered by water and then by steam. The mill owners had to provide a route for the weavers to come down from the upland farms to the mills in the valleys. To do this, they created a new set of paths often with wonderful flights of stone steps – they are a such a surprise when you come across them. Hebden Bridge Walkers Action collected over 800 photos of stone steps in the area as part of its Stepping Out project.
There are other paths and tracks with a specific use such as extracting timber, transporting stone from quarries, constructing reservoirs and providing access to hunting areas.
So you are spoiled for choice, but wherever you walk, you will be walking through history!