On this page we have put up photos of our area. Some have been taken by us, some have been sent in by friends of our area. If you visit us and take a photo, please email it us and include a short comment about the photo, the walk or a tale of the heart of the Pennines.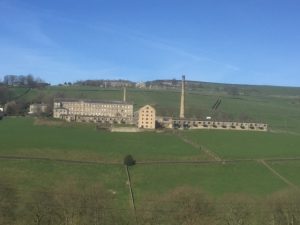 The Luddenden Valley is full of fantastic old paths and is largely unknown to people outside the area.
apart from the streams cascading down the hillside, and the ancient village of Luddenden, the main feature is Oatsroyd Mill. It was a 19th century spinning and weaving mill – one of the largest in the area. It was saved from dereliction by being converted into flats.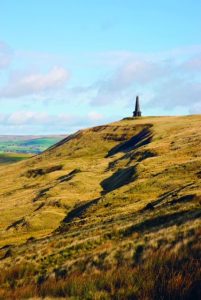 This fantastic shot of Stoodley Pike in the sunshine was on someone's Facebook page. It was so good,  we decided we had to include it here.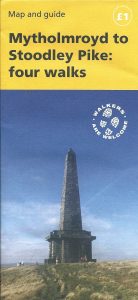 Just picked up a copy of the new walking leaflet from Mytholmroyd Walkers Action. Four brilliant routes from Mytholmroyd to Stoodley Pike.
One via Broadhead Clough
One via The Hinchliffe pub
one via The White House pub
one via Old Chamber
Leaflet available from our on-line shop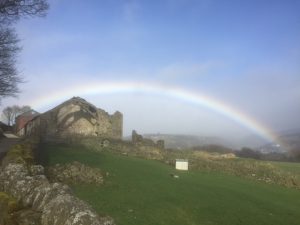 Fantastic rainbow seen from old Chamber above Hebden Bridge. Old Chamber is a very old settlement perched on the hillside.
It's other claim to fame is the honesty box where walkers can make a hot drink, eat some home made cake and pick up some free range eggs.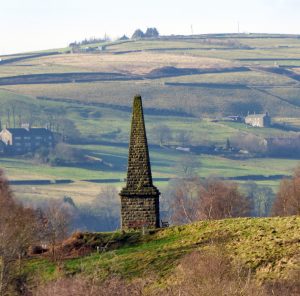 Smeekin Pike is below Pecket Well, a hill top village above Hebden Bridge.
The pike is a first world war memorial on a much smaller scale than Stoodley Pike. It's a lovely spot, with great views and some handy benches for whiling away the time.
Photo taken by Graham Ramsden when a CROWS team was up there improving the access to the pike.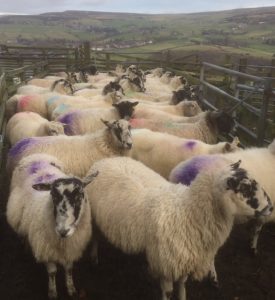 As seen in a pen at Old Chamber above Hebden Bridge. They look like they have some Lonk in them which is a local breed which is becoming quite rare.
Apart from some 17th century houses, Old Chamber is well know for Anne's Honesty shed, where you can buy great eggs, ice cream and confectionery. Even better, you can make yourself a tea or coffee.
It's a local institution.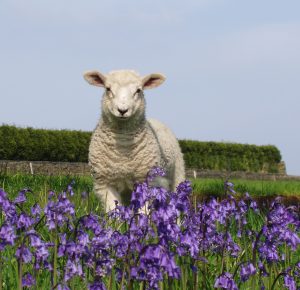 This photo was taken by my friend Graham.
The chances of catching a pretty young lamb together with bluebells are pretty slim – I don't know how he did it!
Rich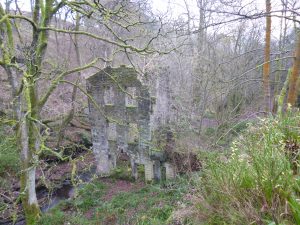 Jumble Hole Clough is a lovely wooded valley, half way between Todmorden and Hebden Bridge. If you look carefully you will see remnants of several 19th century water powered mills and an elaborate water system to feed them.
Staups Mill at the top of jumble Hole Clough is incredibly atmospheric. It's one of the earliest mills around and always a surprise when you  stumble across it.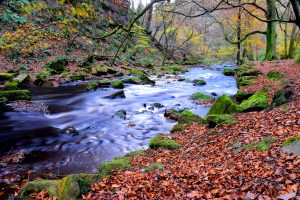 Hardcastle Crags is owned by the National trust and is one of the most popular beauty spots in the area. There are loads of walks ranging from short stroll to walking the full length of the valley up on to the tops.
There is plenty of parking and the 906 bus takes you there at weekends. It has a great cafe too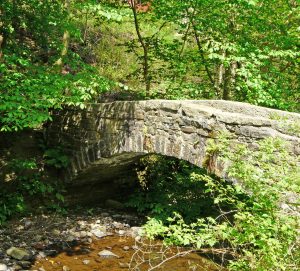 This delightful packhorse bridge leads down to a river side path along Luddenden Dean.
There are many of these bridges in the area, a sign of the old routes for transporting goods.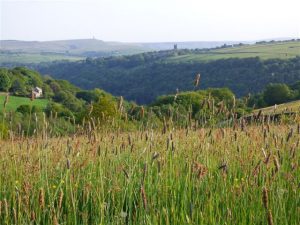 This great photo was sent in by Lesley Jackson who runs Elmet Farmhouse, a luxury self catering holiday cottage at Pecket Well with breathtaking views.