You can do lots of different kinds of walking
The most extensive pathway network anywhere – nearly 600 miles of footpaths and bridleways.
Challenging and easy routes offer every kind of walking.
Links with long distance paths including the Calderdale Way, the Pennine Way, The Todmorden Centenary Way and the trans-Pennine Rochdale Canal.
Lots of published walks – all day routes, bus walks and short strolls. You can buy them on line here.
Themed routes (including e-Trails) with a focus on heritage, nature and landscape.
Guided walks with experienced leaders who know the area and the features you may not spot on your own.
CROWS volunteer team look after our paths and they make it easy for people to report problems.

Looking back over Widdop
You can walk in a varied landscape
High heather moorland (1500 feet tops) and big skies.
Rugged upland pastures with hilltop farms and dry-stone walls.
Steep sided wooded valleys full of atmosphere.
Ancient villages with hidden history.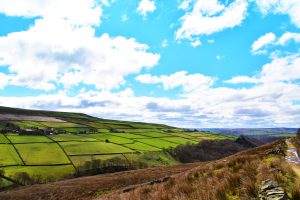 Where is the Heart of the Pennines?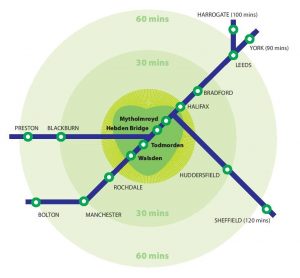 Manchester is to the West of us
The Peak District is to the South of us
Leeds and Bradford is to the East of us
The Yorkshire Dales is to the North of us
Our area is part of Calderdale – Yorkshires most Southern dale.
It runs from Cornholme in the West, then Todmorden and Walsden, down the valley though Hebden Bridge, Mytholmroyd and Cragg Vale, ending at Midgley and Luddenden in the East.
Wherever you are, we are pretty easy to get to – have a look at the  transport page.
You can see amazing wildlife and geology
Curlews, Lapwings, Oystercatchers and Skylarks are often seen, even the elusive Twite may be spotted.
Curious outcrops such as Great Rock, Bridestones and the Basin Stone.
You can discover hidden heritage gems
Discover the cradle of the Industrial Revolution which started here with early water and steam powered textile mills.
Elaborate systems to capture the water in the fast flowing streams.
Make time to visit the ancient villages of Luddenden and Heptonstall – both packed full of history and charm.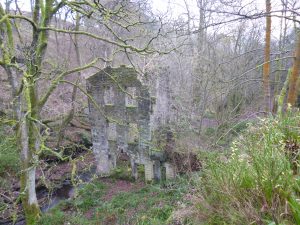 You can eat and drink to your heart's content
There are lots of pubs and cafes, catering for all tastes and pockets, where walkers are always welcome.
You can sample the beer from five local breweries.
You can pick your own at the Todmorden Incredible Edible gardens.
If you stay a bit longer you can dip into a variety of entertainment
There's lots of different kinds of places to stay which are listed on this site.
There are art venues to suit all tastes – galleries, cinemas and theatres.
You even can visit scenes from Happy Valley and Last Tango in Halifax!
There is lots of live music from open mike to live choirs and regular gigs at the Golden Lion and the Polished Knob in Todmorden and at Hebden Bridge Trades Club.
And who knows, you might hear someone singing the Heart of the Pennines anthem!
Thanks to Wally Woodcock and Calder Valley Voices for the song.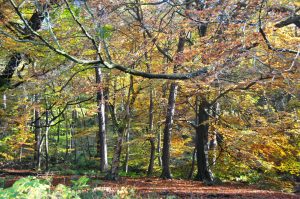 We are continually updating and improving this site to provide information for visiting walkers to the Heart of the Pennines.
Your feedback on the site is very welcome, contact us through our our contact page.
And please, when you visit send a note and a photo or two for us to put on our gallery.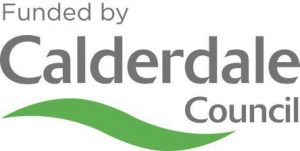 Many thanks to Calderdale Council small grants programme for supporting the Heart of the Pennines initiative.